Aonach Mor
Aonach Mor is little more than a stone's throw away from Ben Nevis. The two main climbing areas are Coire an Lochain and the West Face. Given their alititude, they offer some of the most reliable winter climbing in the area.
Coire an Lochain is the most popular area and has been described as Scotland's most accessible winter cliff. Facing north-east it is sheltered from westerly gales and captures the morning sun and readily forms ice early in the season.
The crags on Aonach Mor's West Face offer true wilderness and solitude. Here the routes stretch along 2km and rise up to 500m high.
Access to Aonach Mor has improved considerably since the development of the Nevis Range Ski Area, and in turn its status as a climbing venue has increased greatly.
"Where else in Britain can you leave your car at 8am, get a ride up with your gear, finish your 3rd route by 3pm and then nip over the summit for a quick pint before leaving the hill?" - Ed Grindley - Guide
If you'd like to let us know, please do!.. The Northern Corries?
---
Routes
Coire an Lochain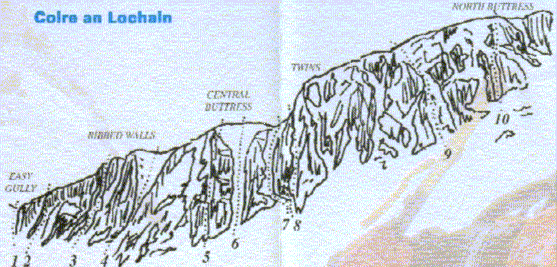 ---
Selected routes:
Easy Gully (I)
Temperance union Blues (III)
White Shark (IV, 4**)
Tunnel Vision (III)
Typhoon (IV, 4**)

Left Twin (III**)
Forgotten Twin (II)
Right Twin (II**)
Icicle Gully (III)
Jet Stream (IV, 4**)

---

West Face

Unnamed (II/III)
Golden Oldy (II)
Western Rib (II/III*)
Spare Rib Gully (III)
Daim Buttress (II/III)
Solitaire (II)
Bouldering
This is a Winter climbing area...
---
Access/Safety
There are no access issues here, however, please be careful and respect the skiers/snowboarders who will also be using the area/facilities. Be careful not to get sliced in half - skiers travel very quickly downhill, and can't always stop.
---
Warning to all Mountaineers!

DANGER - Do not snowhole on or near fence lines - these areas are
         groomed daily.

Aonach an Nid - Coire Dubh are a part of Nevis Range Ski Area,
         please exercise caution when using this part of the mountain.

AVALANCHE CONTROL - DANGER! - The cornice and upper slopes of Coire Dubh
         and north to Aonach an Nid are frequently blasted. DO NOT 
     SNOWHOLE IN THESE AREAS

---
For avalanche information call Nevisport freephone
0800 0960 007
or visit
Scottish Avalanche Information Service
---
Getting there
The easiest approach starts from the ski area which is 7 miles (10km) north of Fort William, off the A82 to Inverness.
An early lift to 650m is available for climbers at 8:00am prompt and runs continuously after 9:00am. If the gondola is unable to operate due to high winds (or for those who prefer to walk!) the same point can be reached within 1.5 hours by following a path under the gondola line.
From the top station the cliffs can be reached on skis by chair-lift and tows, however, if on foot, a further lift can be taken to 850m (via the 4-man chair). Follow the west ride to a small hut and ariel at the top. From here, Easy Gully is 150m due South.
Another option is to follow Rob Roy's Return under the Nid Ridge to the climbers' col.
To reach the West Face head for Meall Beag from the restaurant and then continue to traverse into the glen.
---
Amenities
At Nevis Range you'll find...
Free parking
Regular bus service from Fort William
Climbers' gondola departs 8:00am then continuously after 9:00am*
£6.50 return trip.
Chair lift to 870m (after 9:00am)*
£1 - one way.
Nevisport Shop at the top station sells basic supplies and maps.
Self-service restaurant, open all day
Snowgoose BAR with Happy Hour every day between 2pm - 3pm. *
Ski equipment on hire, including Telemark.

Ski, boots + poles hire: £13.00
Telemark equipment: £12.00
Full area lift pass: £18.95

Snowboard package (hire, pass + 4hr lesson): £39.00
*
Indicates WINTER ONLY/Weather Permitting
Prices will be reviewed, Autumn 2000.
Climbers' Accommodation
There is a variety of accommodation in and around Fort William, from campsites to quality hotels. The following bunkhouses / hostels offer excellent facilities at great value.
Ben nevis Bunkhouse - Achintee Road

Drying room, self-catering facilities, private rooms available, optional meals. 01397 702240

Farr Cottage Activity Centre - Corpach

Self-catering facilities, private rooms available, optional meals, minibus and laundry services. 01397 772315




Bank Street Lodge - Fort William town centre

Drying room, self-catering facilities, private rooms available, optional meals. - 01397 700070




Inchree Hostel - Onich

Drying room, self-catering facilities, private rooms available, PUB, restaurant and climbing wall. - 01855 821287




Fort William backpackers - Fort William

Drying room, self-catering facilities, private rooms available, optional breakfast and internet access. - 01397 700711




Glen Nevis Youth Hostel

Drying room, self-catering facilities, private rooms available, continental breakfast included in price, open until 2am. - 01397 702336
Further information can be found by contacting Fort William Tourist Office on 01397 703781
---
All of the information/diagrams were reproduced, with kind permission from Nevis Range, from their leaflet, "Winter Climbs on Aonach Mor!"
Nevis Range, Torlundy
Fort WIlliam, Inverness-shire
Scotland PH33 6SW
Tel: 01397 705825 / 705855
Fax: 01397 705854

Email: