Bruach na Frithe & Am Bastier
These are the "second two mountains" on the ridge if you are leaving from Sligachan. On a clear day, both are clearly visible from the hotel/campsite. As for Sgurr nan Gillean, folow the well trodden path across the peat bog crossing the river at the first footbridge. the path splits at the next river crossing (474278) - don't cross, instead follow the path to Coire a Bhasteir and make your wy up towards the peak.
From here you get a great view of Pinnacle Ridge on Sgurr nan Gillean. You also get up-close-and-personal with the tooth - it's really quite intimidating if the weather isn't bright sunshine (which makes everything look friendly).
From the corrie, head for the left-hand side of Am Bastier to the col on the ridge - you'll see a path running directly under the NE face of the mountain - you'll be walking on this later. - Once on the col you'll see that the ridge is incredibly narrow - it's like this everywhere along the ridge and unlike anywhere else in Scotland. Much narrower than Aonach Eagach in Glencoe.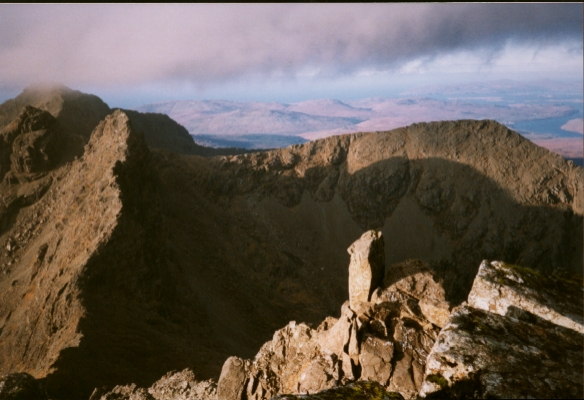 Am Basteir from just above the col
Scrable up the ridge to the summit of Am Bastier! for the brave, drop off the other side and go and have a look at the tooth... Return to the col down the ridge and then descend and skirt underneath the face of the Am Basteir and up the other side to join the ridge again - continue scrambling up to the summit of Bruach na Frithe.
Bruach na Frithe
On of the most under-rated mountains in Skye - lots of people put it down because it is "an easy bag" but even so, the mountain is beautiful - at 958m it's also one of the highest on the island. As a result you get a fabulous viewpoint to survey the rest of the ridge, from sgurr nan Gillean to the In. Pin and beyond - it's a great place to sunbathe and eat lunch - you'll also get some stunning pictures here.
Descent
A nice route down is by the north-westerly ridge from Bruach na Frithe but there are other paths leading off the hill - the choice is yours.
Navigation
In good summer conditions, navigation is fairly straightforward once you reach the corrie - in thick fog/cloud, finding the corrie could prove difficult.
Winter
Not a place for the inexperienced in winter - a slip could leave you sledging into Lota Corrie which (assuming you can walk) is a long way home.
Good winter skills and confidence moving and belaying in exposed ground (Am Bastier) are essential. If you're less confident in winter but have the necessary winter skills (ice-axe braking/navigation etc) then why not try bruach na Frithe on its own.