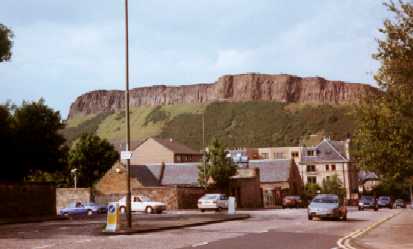 Restrictions on Salisbury Crags
Salisubry crags are right in the centre of Edinburgh, in
Holyrood Park
. It's one of the most obvious and best climbing resources the city has. However, along with Edinburgh Castle there was a climbing ban until recently. The restrictions on Salisbury Crags have been eased now though. I understand the ban on the castle is unlikely to be raised. Here's an article Mark Begbie typed in about it.

THE SCOTSMAN Tuesday, 16 August 1994    page 5

Climbers concerned by need for permit on crags.
-----------------------------------------------

THE Mountaineering Council of Scotland is worried a permit requirement
for climbing Edinburgh's Salisbury Crags could set a dangerous
precedent.

Historic Scotland has partly lifted a ban on climbing the crags imposed
in 1978 because the rock faces were crumbling.

It has, however, continued a ban on climbing in a challenging part of
the crags because the rocks might be dangerous.

As of yesterday, climbers had automatic permission to climb the South
Quarry if they could produce membership cards for the Mountaineering
Council of Scotland, the British Mountaineering Council or their
affiliated clubs.

The MC of S would not give Historic Scotland information on affiliated
clubs because it disapproved of permission to climb being needed.

Kevin Howett, national officer for the council, said: "You should not
have a permit system because that would set a dangerous precedent for
other landowners."

Many mountaineering clubs did not issue membership cards, he added, and
many climbers were not members of clubs.  Although climbers could write
for permission to the park police before climbing, Mr Howett felt
climbers should not have to go through such a procedure.

The decision to allow climbing came after a Historic Scotland land
review of leisure use of the park.

The restricted climbing would be in the interests of safety of all park
users, a spokeswoman for Historic Scotland said.  South Quarry was safer
for other park users because it was set back from the path along the
bottom of the crags known as the Radical Road.

the MC of S said it was delighted at a limited lifting of a ban but
wanted to see climbing allowed in the more difficult Long Quarry area.

Historic Scotland ruled that out, saying safety could not be guaranteed
for climbers trying various routes on the faces.

That's all I know at the moment.

Mark Begbie


The article is used with the kind permission of James Seaton, the editor of the Scotsman Newspaper. Their address follows.
The Scotsman
P.O. Box 56
20 North Bridge
Edinburgh EH1 1YT

tel:- 0131-225 1505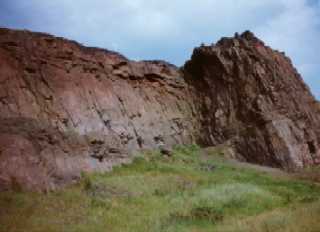 Here's a quick snap of the climbing area that you are currently allowed to use. It is sometimes used by the Fire Brigade for training since they are continually having to rescue the unfortunate or the stupid from the crags!
There are many accidents on the crags each year. This is probably because passers-by think it looks easy and decide to be a cimber for the day - even in winter when it's icy! Don't be another statistic.