Scottish Climbing Walls.
If you
want to practice indoor climbing
, This is a pretty complete list of the climbing walls in Scotland. Some of the information on Alien Rock was written by them, so thanks for the help.. You need not worry about accuracy as I censored it afterwards though..
There's a list of climbing walls in England. I know a few more climbing Walls in England than are listed, so, at some point I may attempt to add them. I doubt it though. The London ones are the most obvious ones which are missing. If someone could research those for the maintainer that would be great.
The almost complete, On The Edge list of climbing walls is also available.
Walls with a star (*) are ones I think are good. I haven't been to all of the walls though, so I could easily have missed a couple.
Listing
The best wall in Edinburgh (and possibly Scotland) is definitely
Alien Rock
8 Pier Place
Newhaven
Edinburgh
tel:- 0131-552 7211

All the information can be found at their website, www.alienrock.co.uk

OPENING HOURS
      Weekdays  12 noon until 11pm (10pm on Fridays)
      Weekends  10am until 9pm

Peak time is after 4pm

PRICES                      Weekdays              Weekends
                        Peak     Off Peak      Peak     Off Peak 
       Adult            £5.00    £3.50         £5.00    £3.50
       *Discounted      £4.50    £3.00         £4.50    £3.00
       Concessions      £4.50    £3.50         £5.00    £3.50
       Discounted       £4.00    £3.00         £4.50    £3.00
       Under 16s        £2.00    £2.00         £2.00    £2.00

*For discounted prices there's a £5 annual fee which also gets you
 10% discount at the Tiso shop at Alien Rock.

       Boots & Harness Hire: £3.00


It's opposite Newhaven harbour and they list the 10,16 and 17 busses as the way to get there, though the 11 bus also stops (at it's terminus) right next to there. The C3 (sprinter) also comes there from Nicholson street. Facilities include a leading wall which is probably the best wall in Scotland, and a bouldering wall which is small but fun. Part of the bouldering wall is built to look like a crag, which means that it's got very steep hard problems The rest is made up of a vertical wall and an overhang. This means it probably isn't as good for beginners or training as Dunfermline. On the other hand, since the leading slab has plenty of easy climbs, you probably wouldn't want to start a beginner on the bouldering. The organise some
Climbing competitions
especially in the winter.
The other wall is at Meadowbank Sports Centre. They operate somewhat arcane opening hours and entrance controls. They often don't allow you on because they are too full and they require ropes and helmets. They also require a safety course to climb alone. The climbing it's self is on an old fashioned design with bricks in and out of a normal wall.
The biggest problem with Alien Rock is that they no longer sell homemade flapjacks.
Glasgow Climbing Centre
Ibrox Church
534 Paisley Rd West
Glasgow
tel:- 0141 427 9550

           time          Adult       Under 16     Student/UB40
Week     10am to 5pm     3.00        2.00         2.85
         5pm to 10pm     4.00        2.85         4.00
Weekend  10am to 6pm     4.00        2.85         4.00

    Note:- Registration fees: 2.55 anually

The glasgow climbing centre has slightly less leading than Alien Rock at present, but it is also an Excellent place. Their wall has less in the way of variation of gradient, but has been made by two companies, Livingstone and DR. This makes for a fair variation in style of climbing.
The bouldering walls at the centre are also in two different areas, by the two different companies. The DR section is fairly normal, with interesting routes over bolt on holds. The other section has no bolt ons at all, but is totally wildly sculpted, with a huge variation in angle from slightly overhanging, to quite steep indeed. This makes it a great place for training to that proper adequate level of burn.

Kelvin Hall ISA
1445 Argyle St
Glasgow G3 8AW
tel:- 0141-357 2525

The Kelvin Hall, Dumbarton road. Reasonable Bendcrete wall, Not too wonderfully designed (no roofs and few other features) and getting a bit worn out, but still good for pumping out on.
Carneigie Liesure Centre
Pilmure St
Dunfermline
tel:- 0383-723211
Probably the best bouldering wall in Scotland. Bolt on holds combined with a varied and interesting layout give considerable variety. It's in their main sports centre, next to the Gateway Supermarket, and the most useful piece of advice I can give you is to park in the Supermarket carpark if you go in a car. You won't easily get parking anywhere else.

Lochaber Leisure Centre
Belford Rd
Fortwilliam
tel:- 01397-704359

Monday to Friday, 9am to 9pm       Saturday and Sunday, 10am to 6pm.
Normal Ticket:- 1.80    Group (more than 10 with 24hrs notice):- 1.40

Before the invention of Dunfermline this was the best wall in Scotland. It has
roofs
, finger pocket walls and cracks. Variety in other words. It's in a sports centre on the road out of Fortwilliam heading North, before the turning for Glen Nevis. Nowadays, it has a new section which is similar in style to Dunfermline.
Beach Leisure Centre
Beach Promenade
Aberdeen AB2 1NR
tel:- 01224-647647
Never been there, but here are some uncensored comments from Duncan:- Take them as you wish:- Abdn is a good idea but now, I fear it is a big slimy heap of choss. Its not really looked after by the beach leisure folk and you can really whack your head on the opposite wall if you fall off. However, its good for beginners and the pockets are still climbable on. It has slabs and chimneys and "real features" but I don't like it! (please include a disclaimer!!).
thanks to Dunc Borthwick. Sorry about the disclaimer.
Peterhead Community Education Centre
Balmoor Terrrace
Peterhead
tel:- 01224 636 952
There is in fact a second climbing wall in the Aberdeen area and it can be found at Peterhead Community centre. It costs only 1.30 but you need to go as a group and have a designated "leader" The Wall itself is rather good. Although the climbing is technically easy it is designed for proper leading (i.e. using friends, nuts etc.) so is great for those who want some practice in a relatively safe environment before leading outside. Thanks to Steven and Craig
Olympia Leisure Centre
Earl Grey Place
Dundee
tel:- 01382-434 888
I've never been there but it gets reported so:- Dundee is only about 12 ft high and built into a glorified big cupboard. Built b y DR. Now that they've got some air circulating around it, its quite livable in and is host to lots of well 'ard bouldering. Not really suited to the beginner methinks. The landings can be very dodgy as they've only 3 old mattresses in the place. It is however a good place to boulder and dyno..
thanks to Dunc Borthwick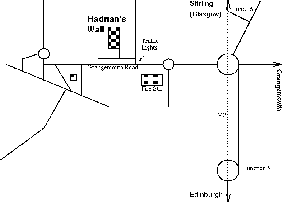 Hadrians Wall,
Coasters Arena,
Grangemouth Road,
Falkirk
tel:- 0 1324-637733



10am-11pm    Normal:- 4.00    Concession:-  3.00 (students only in term)

Hadrians Wall is the biggest wall in Scotland, and probably the biggest in the UK. It has to be seen, if nothing else, for it's size. The interesting thing about Hadrians Wall is the way that they are planning to do features on their wall. Most of the walls are very blank and featureless. They just have holes for bolt ons to be attached to. However, they are also making up a number of large features, which can be attached to the wall at any location. For example there's a new route on the wall which is made up of two noses, each of which are about a meter wide and about 3 meters high. These noses are completely removable, and could be put on almost any of the other faces. This Lego brick approach to the wall means that they will have a lot more flexibility in how they build their routes. At present however, it means that the wall is a bit bleak, but still impressive. There are plans in future to add overhangs and other features in a similar way.
"Its really about indoor mountaineering as you can link big pitches and hanging belays! As for the routes, I didn't think them too great.. Though the competition wall looks just downright ace!!! [I've been on it.. it is superb, but I'm not sure I like the ledge in the middle too much, it breaks the climbs a bit. Makes them possible..] They're going to stick features up soon. Hopefully this`ll make it look less sterile I hope. The bouldering areas are very disappointing as little thought has gone into the layout of the holds. I guess it'll improve in time. DON'T GO IF YOU SUFFER FROM VERTIGO!!"
Oh, and they have now got heating. And it works, so the place is warm enough to train in no problem.
Thanks to Dunc Borthwick for that quote and some other input here.
Herriot watt University
have one in their sports centre, phone number 0131 451 3000. I'll try to get them to set up a WWW page for it, or get details. One of their members has contacted me to say that he might do this soon. It's supposed to be the best of the brick wall style ones, and big.
There are many old style walls in Schools and Further Education colleges round Scotland. Since it's impossible to get into most of them without being directly associated with the colleges (and often difficult even then) there's not much to say on these.